The Biodynamy
« Without life in the soil, there cannot be a Terroir effect ».
Biodynamy is a natural method inspired by antique viticultural techniques and brought back to life by rigorous viticulture. Influenced by cosmic and terrestrial currents, it balances the life of the soil which feeds the vines and gives a strong identity to the grapes. « Allow the vine grow to its final expression ».
The new wines are planted in rows spread by 150 to 80 cm, which gives a density of 8300 vine/hectare. Because they have to compete for nutrition, the roots dig vertically in the soil to bring out the full expression of the terroirs.
Biodynamic viticulture considers vines as a living organisms. It strengthens their immune system to protect them from diseases, and parasites without using pesticides, insecticides, or any other chemical treatments.
Enemies of the vines are kept at tolerable level by developing of all living entities with natural herbal solutions. All through the year, Jean-Baptiste Adam and his team pays close attention to each individual vine parcel. The decision to harvest is made in collaboration with winemaker. In order to keep the berries intact, the grapes are directly placed into most modern pneumatic presses. The purity of aromas is therefore preserved. The vinification takes place at its own pace at controlled temperature.
We have chosen to produce racy wines, who give the most sincere expression of the terroir. Our vinification is custom made for each vintage.
Cycle of the moon
The moon exercises a not insignificant influence on the ground elements. The man leans for a long time on his cycle to give rythm to his life and in particular the culture of plants. Besides the rising-downward and increasing-decreasing phases, the Moon, when it passes in front of the constellations, influences the growth of a plant and guides the works.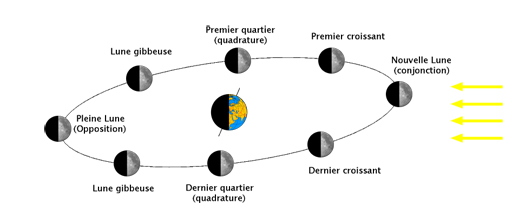 Size in perigee which causes loss of vigor or in apogee depending on the vigor sought. Somewhat weak pieces are cut in apogee. On the other hand, Black Pinots will be cut in perigee.